Piano Piano 2018 Martin Litton (England)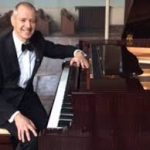 Schauen sie statt den Text zu lesen mal auf Youtube das eine oder andere Stück des Künstlers
an:

Martin Litton
Born in 1957, Martin Litton studied at Colchester Institute, graduating with a BA in Music. His
early career included periods with Harry Gold & his Pieces of Eight and Kenny Ball, with whom he toured
Russia and the Middle East. Later work included recordings with leading British musicians such as Humphrey
Lyttleton, Wally Fawkes and Digby Fairweather.
In 2002 Martin Joined the Pizza Express All Stars, led by veteran saxophonist Tommy Whittle. His
contribution to singer Claire Teale's first three albums, as arranger and pianist, was highly
acclaimed.
Martin has toured Britain and Europe with the late Keith Smith's Hefty Jazz. His own
eight-piece band, Martin Litton's Red Hot Peppers, expertly recreates the music of Jelly Roll
Morton, and has been featured on BBC Radio, and at Festivals throughout the UK.
As a soloist he appears regularly at all the major UK jazz festivals, including Keswick, Whitley
Bay, Bude and Swanage, and at the Stride Summit in Meilen, Switzerland.
Other jazz repertory projects include his Gramercy Five, featuring Mark Crooks (clarinet) and
Enrico Tomasso (trumpet), and his Ellingtonians, showcasing the singer Val Wiseman with a quintet that
includes saxophone and violin.
In June 2010, Martin appeared as a guest soloist with Guy Barker's Big Band Britannia at
the Barbican Centre, in a historical survey of British Big Band Jazz, subsequently broadcast on BBC Radio
Three.
From 2011 he has toured with the Buck Clayton Legacy Band.
November 2011 saw his third tour of Australia in the company of Tom "Spats"
Langham and Malcolm Sked. With the bass player Richard Vernon, Spats and Martin form the Sporting House
Strings. He also plays regularly for the Piccadilly Dance Orchestra, Tony Jacobs Tuxedo Jazz Orchestra and
with Harry Strutters Hot Rhythm Orchestra in the popular show 'Swinging at the Cotton Club'.
For seven years Martin presented a tribute to Fats Waller at the Purcell Room and has appeared many
times at the Queen Elizabeth Hall. In December 2013, he performed a concert of solo piano music by Duke
Ellington there as part of the London Jazz Festival.
Martin has contributed his knowledge of classic jazz piano playing on several occasions to BBC
Radio Three's Jazz Library and appeared on that same network's programme ('In
the Name of the Fatha') where he demonstrated the keyboard style of Earl Hines.
Martin has appeared with the Swedish Jazz Kings and has also worked with many American Musicians,
including Bob Wilbur, Scott Hamilton, George Masso, Peanuts Hucko and Al Casey. He has recorded with Kenny
Davern, Wild Bill Davison, Yank Lawson and Marty Grosz.
Martin's many recordings are listed in Euro Jazz Discos No.50, compiled by Gerard
Bielderman. His first solo CD on the American solo art label was shortlisted in Jazz Journal's
1994 critics' poll. And his solo album 'Falling Castle' was declared "a
gem" by the Jazz Rag. His 2010 recording with Langham and Sked, 'Laughing at Life'
(Lake CD 237) has received unanimous praise from the critics. "Three musicians playing as one…Litton
is a rock of strength throughout…backing up the others superbly and soloing with enthusiastic
awareness of the tradition he exemplifies." (Tony Augarde: Music Web International); "Martin
Litton plays brilliantly throughout" (The Jazz Rag).
"Martin Litton is a strong, sophisticated soloist with an eclectic
style and an eye for presentation." Jazz - The Essential Companion
"…a soloist of genuine quality, quick to see and seize a creative
opportunity." The Stage
"Litton excels as blues man, strider and swinger." Jazz Journal
"His style comprises driving swing and gentle melodic invention. In addition he
is a good accompanist." Jazz Journal
See also 'Who's Who of British Jazz' by John Chilton
(published by Cassell)